LifeX wrote:

Hi Guys,

I was going to code a 475/700 server from scratch. I am hoping you guys can contribute to suggest what would be a good gameplay for the server and things you would like to see in this server setup.

I would release the sources when its done, as this is the effort of the community. Kindly think hard on the level settings and kindly think if you are the admin of the server, what kind of things would you like to have.

Furthermore, those who played Vamp's HBWorld could also contribute as I didnt have the pleasure of playing that, but am curious to know how Vamp made it as successful as it can be.

Kindly suggestion using the format below, so I can compile everything and put as an update like how Centuu is doing for 200/200 server.

Suggestions :

1)
2)
3)

Thanks.
I'll introduce you to the HBWorld server:
1) It was all centralized in the CityHall (shop, bs, guild, etc.)
2) In CityHall you can teleport to Barracks, where is the only map where you can train get Max Level and Majestics
3) Doesn't had activity in the citys, only for Capture the Flag event and Crusade
4) Only ML, and HuntZones (Gardens, ToH, Icebound) for get Set's and rare items, and train
5) Had a Trap System where you can leave an invisible "magic trap" wherever you want and when someone walk in they get the magic effect
6) Charisma replaced for Agility and it was used for Archers, also they had a special Hero Set
7) Battle Mages had a Battle Wand that when you hit with Critical's they cast a magic that was specified in the item (Battle Wand of Ice/Earth/Fire, etc.)
8] You can buy a Reset Stat scroll to chage from Warrior to Mage, or Battle Mage, or Archer, etc.
9) Had a good balance of Gold. You don't had it in NPC's drops, you must sell items to had it. Also, all items when you sell had a cost of 1. (There was Gold Pocket's in drops sometimes, and most frecuently Daggers or Arrows that comes in 1~100 amount, so you can get them and sell it)
10) Angels costs 100k Gold, and can be droped and selled
11) All magics costs 1 Gold, more rare magics only can be obtained from Manuals
12) Had Corruption items for players with negative reputation (like Kloness, but inverse)
13) Had Element Wands to do +% damage with specified magic element
14) Magic Absorption replaced with Element's Absorption (Fire/Water/etc)
15) When you die, restart in CityHall
16) Also had a Wanted System (didn't know how it works), and Deathmatch Event of course!
17) Angels stats replaced from STR, DEX, MAG, INT to Hitting Probability, Magic Damage, Physical Damage, etc
Criminal Wanted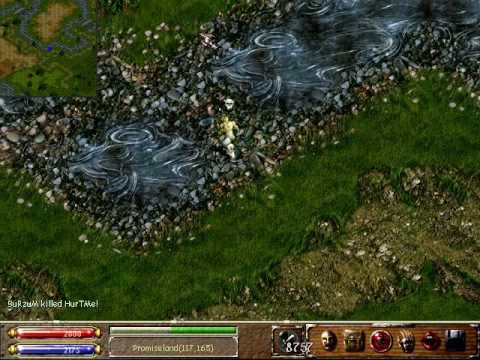 Enemy Kill
Party